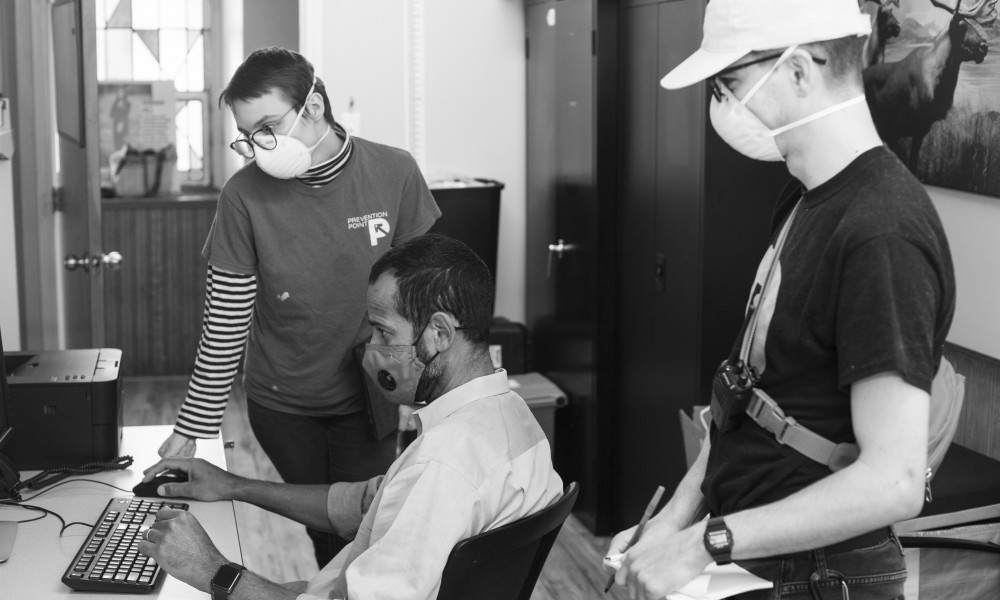 1) Behavioral Health Consultant
Department: Medical Services
Start date: January 4, 2021

POSITION DESCRIPTION
 
The Behavioral Health Consultant (BHC) is a core member of the collaborative medical and behavioral health
care team. The BHC is responsible for supporting and coordinating the mental and physical health care of
patients on an assigned patient caseload with the patient's medical provider and, when appropriate, other
mental health providers. The BHC will begin with providing their services in the MAT clinic at PPP and
eventually expand their services to the other medical clinics.
DUTIES AND RESPONSIBILITIES
Support the mental and physical health care of patients on an assigned patient caseload. Closely coordinate care with the patient's medical provider and, when appropriate, other mental health providers
Screen and assess patients for common mental health and substance use disorders. Facilitate patient engagement and follow-up care
Provide patient education about common mental health and substance abuse disorders and the available treatment options
Systematically track treatment response and monitor patients (in person or by telephone) for changes in clinical symptoms and treatment side effects or complications
Support psychotropic medication management as prescribed by medical providers, focusing on treatment adherence monitoring, side effects, and effectiveness of treatment
Provide brief behavioral interventions using evidence-based techniques such as behavioral activation, problem-solving treatment, motivational interviewing, or other treatments as appropriate
Provide or facilitate in-clinic or outside referrals to evidence-based psychosocial treatments (e.g. problem-solving treatment or behavioral activation) as clinically indicated
Participate in regularly scheduled (usually weekly) case conferencing with supervisions and/or multidisciplinary team
Document patient progress and treatment recommendations in EHR and other required systems so as to be billed and shared with medical providers, psychiatric consultant, and other treating providers
Facilitate treatment plan changes for patients who are not improving as expected in consultation with treatment team
Work with behavioral health coordinator to create and implement new behavioral health screening and response practices
QUALIFICATIONS
LCSW, LMFT, or LPC
Experience with screening for common mental health and/or substance abuse disorders
Working knowledge of differential diagnosis of common mental health and/or substance use disorders, when appropriate
Ability to effectively engage patients in a therapeutic relationship, when appropriate
Ability to work with patients by telephone as well as in person
Working knowledge of evidence-based psychosocial treatments and brief behavioral interventions for common mental health disorders, when appropriate (e.g., motivational interviewing, problem-solving treatment, behavioral activation)
Experience with assessment and treatment planning for common mental health and/or substance use disorders
Experience with evidence-based counseling techniques
Please send resume and cover letter to elby@ppponline.org
 
2) 

Testing and Prevention Specialist 
Department: Prevention Services
Job Title:  Testing and Prevention Specialist (Full-time)
Reports To:  Testing Program Coordinator
POSITION SUMMARY
The HIV/HCV Tester/Counselor will focus on increasing HIV and HCV testing, connection to care, and health education for participants that come to PPP's drop-in center, syringe exchange program, and clinical programs. People come to Prevention Point, in majority, through our drop-in center. We regularly see anywhere from 125 to 200 people daily. Many people coming in our doors have the need for on the spot services not specific to any other program PPP has. Engagement in testing services provides a bridge between the drop-in and other PPP services. PPP testers are expected to recruit participants for testing, deliver results, and work with case management on other client concerns, which include, but are not limited to:  linkage to  HIV and HCV medical care, PrEP and PEP services, primary medical care, behavioral health care, overdose prevention training, help accessing public benefits, referrals to other outside agencies and their services, questions about best harm reduction practices and linkage (if appropriate) to other PPP services.
Responsibilities include promotion and administration of HIV and HCV testing and counseling; provide positive clients with internal referrals to care; collect and enter data.
DUTIES AND RESPONSIBILITIES
Conduct confidential and anonymous HIV and HCV testing and counseling in the PPP building as assigned


 

Recruit participants for Comprehensive Risk Counseling and Services (CRCS) at PPP's Harm Reduction Services Drop-in Center, PPP's weekly mobile outreach sites, the STEP Clinic, and the syringe exchange program (SEP), and identifies HIV-positive individuals who have been out of medical treatment for over 100 days and refers them to PPP's Care Outreach Case Management


 

Perform face to face risk assessments with clients, obtaining medical, demographic, and consent information


 

Assemble follow-up plans for participant who test reactive for HIV and/or HCV with client and other members of support team while ensuring confidentiality. Administer post-test counseling for those who test non-reactive.


 

Available for off-site testing events and educational presentations as appropriate, including evening and weekend events


 

Provide information and referrals, including appropriate follow-up and monitoring of related activities, and reassessment as needed


 

Actively participates in team meetings and bi-weekly staff meetings


 

Adheres to Prevention Point's harm reduction approach (meeting people where they are & withholding judgment about choices they make, etc.)   


 

Maintains the standards of accurate and complete recording and reporting of program activities. Completes routine data entry.  Records and submits required reports and documents in a timely manner


 

Completes routine administrative duties including filing, shredding, collating, stocking, inventory, and other operational needs


 

Upholds policies and procedures for HIV and Hepatitis C testing in accordance with standards set by PPP, AACO, and the Office of Additions Services 


 

Performs other duties as assigned by supervisor
Skills Required
Excellent oral communication skills – both one-on-one and for group presentations


 

Skill in communicating effectively with a variety of people of various socio-economic and educational backgrounds


 

Ability to use a harm reduction approach with drug users and sex workers


 

Dynamic, creative, flexible, able to learn and adapt in a changing environment


 

Ability to work independently and as part of a team


 

Ability to meet the physical requirements of conducting street outreach for three hours per week


 

Excellent written communication and organizational skills


 

Basic computer skills (Windows/Microsoft Office Word, Excel, PowerPoint)
Minimum Qualifications
At least two years work experience with communities impacted by HIV/AIDS, substance use, poverty, and/or homelessness.


 

Bilingual in English and Spanish


 

Direct service experience with one-on-one counseling and group facilitation experience preferred


 

AACO HIV Counselor certification


 

Knowledge of Philadelphia social service and medical systems


 

Knowledge of HIV prevention


 

Demonstrated commitment to advocacy and social justice, particularly as related to harm reduction, HIV/AIDS, poverty, and homelessness
Other Requirements
This position includes the normal physical demands of a community-based health program, including lifting/moving up to 25 lbs, bending, and carrying. Other physical requirements include sitting for long periods, standing for up to 30 minutes and walking short distances.


 

This position requires travel to outreach locations within Philadelphia and the ability to work out-of-doors for up to 3 hours.
To apply, please end resume and cover letter to: luis@ppponline.org