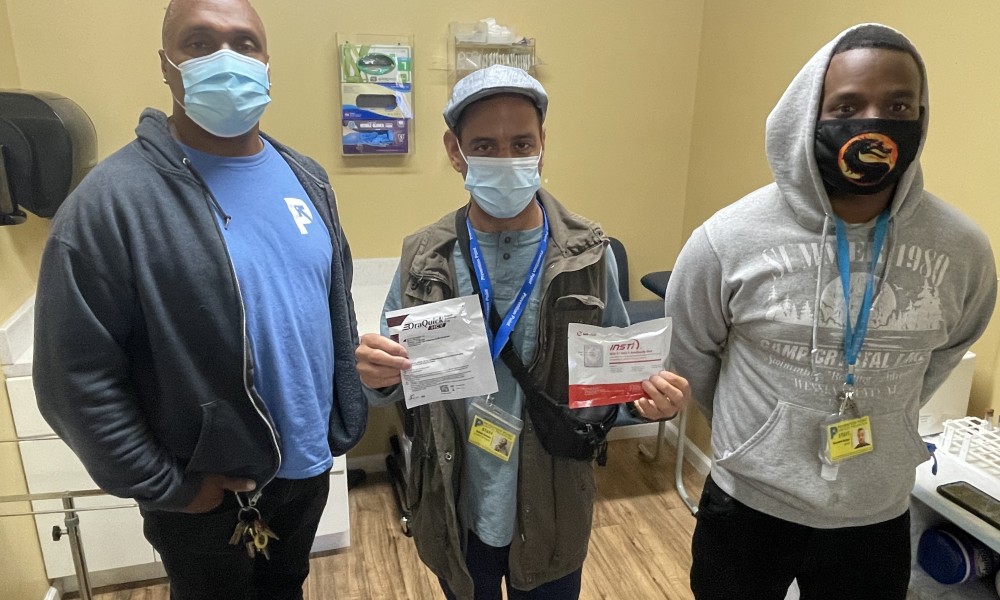 Just because you are in active addiction doesn't make you less of a person.
Hilary Disch
With the Philly AIDS Walk quickly approaching on October 17, we want to highlight some of our services for people living with HIV/AIDS or engaging in behaviors that put them at risk for acquiring HIV. Our Testing Team is doing phenomenal work on the ground to help our Kensington community members know their status, stay healthy, and make empowered decisions regarding their health.

Testing Specialist Rafael Jimenez says that his team's work is essential, especially in a neighborhood facing poverty and a lack of resources. 

"I choose this work because I've been HIV positive for almost 25 years now. That motivates me to stay in the field and ensure that people know their status by recruiting folks in this environment to get tested, and to ensure that they get connected to care so they can live long healthy lives," he says.

The team's coordinator, Luis Couvertier, is driven to do this work by the memories of the people he has lost, and in honor of his loved ones that are living with HIV.

"I've lost a lot of people from HIV/AIDS. This work is a passion of mine — trying to help people and also teach people how to maintain negative status through safer sex practices, like how to use a condom properly or getting on PrEP."

Luis's team administered 1,298 HIV tests and 922 Hepatitis tests in FY2021. While this is an impressive accomplishment, the team agrees that they are always striving to increase their numbers and mitigate the obstacles and stigma that discourage community members from getting tested. According to Testing Specialist Desmond Doyley, it can be challenging for some participants to prioritize their long-term health and wellbeing when they are constantly trying to meet their urgent, immediate needs. These needs might include food, shelter, clothing, and avoiding painful withdrawal symptoms.

"We make sure they understand that we are not judging them"
Luis agrees, and adds that the team has adopted strategies to encourage participants get tested and learn about care options. "We offer people incentives to stay for their session, and that could be a gift card, food, sterile syringes, something just to keep them engaged... Whether their status is positive or not positive, they can leave with prevention information and condoms, and we give them referrals for PrEP if they're interested," Luis says.

Because of the team's incentive programs and compassionate, open-minded approach to service, they say that many of their participants return every three months to get tested.

"Lots of people in our population get mistreated, such as in hospitals, so we make sure they understand that we are not judging them. As a result, they do come back," states Rafael.

"Just because you are in active addiction doesn't make you less of a person," Luis says. "We treat people the way we want to be treated when we go somewhere and that's with respect, first and foremost."